NSW Championship winning Oztrack Clubsport
Oztrack Clubsport Drag Racing 2004-2006
THE 11 second
OZTRACK CLUBSPORT
Base Specifications
5.7L (346ci) US Manufactured LS1 engine.
Used in America in Corvette, Pontiac GTO & Camaro.
Weight 1650Kg (3638lb)

The car did
323
drag races at Sydney Dragway
with 187 times in the 11s range.
Racing with borrowed super narrow and light front wheels.
Drag Racing Results
Drag Races are over 1/4 mile (about 402m) and the results are given as a time in seconds and the finishing mph at the end.
Note: Most Porsche cars run slower than 13.3s and only $300 000 ones go under 13s.
Cars straight off the street can race most Wednesday nights but the Sport of Drag Racing that includes many classes of racing and handicap racing occurs on the weekends
Sydney Dragway is south of the Eastern Creek Circuit Race Track
23 June 2004 - First visit ever to WSID.
13.904s best of 101.7 Mph (163kph)
14 July 2004 - won $100 for 3rd best start of the night
13.274 - done with air intake and Re55 tyres but with full quiet exhaust
28 July 2004 - won $300 for best start of the night.
13.031 best of 108mph (174kph) - done with a special custom air intake and RE55 Race tyres plus race loud exhaust
11 August 2004
13.066 - maxiflow air intake and RE55 Race Tyres plus race loud exhaust
20 September 2004 - Sunday Private Track Day
13.2140 best of 108.7Mph (175Kph) - all on street tyres plus race loud exhaust
29 September 2004 - two runs and it rained. Done on street tyres. plus race loud exhaust
13.160
3 November 2004 - won $200 for second best start of the night.
Good improvement from engine mods done with street tyres, plus race loud exhaust
12.713 best of 112.94Mph (182Kph)
10 November 2004 - with borrowed BF Goodrich Drag Radials. The track was slippery compared to last week.
Temperature of 19 degrees. Nice if we had near 10 degrees again - it would help about 0.1s .
12.645
12.968 - had to ease off the throttle - left traction control turned on.
12.692- best end speed 112.5Mph (181Kph)
27 Feb 2005
It did 11 between 12.608 and 12.700. Recording a new best of 12.608 and 113.57mph which is 182kph (with a 1.940 first 60 footer. This was in 22 degrees and 77% RH, so with 10 degrees the car is in low 12.40 shape now.
The times for my best run were
1.940
5.375
8.169 at 86mph
10.578
12.608 at 113.57 mph
Project 11SR8



Late 2005 Further Modifications.
Most of the base work for a 11s car had already been done and the next big stage was to purchase a Hi-Stall converter from USA, I did lots of research and decided on a "Yank Super Stock 3600". It promised to make the car able to launch at 3600rpm and maintain revs at 5000rpm and above for most of the strip. Plus it would likely smooth the cars gear changes out and make it much smoother to ride in on the road.

The Yank SS3600 was fitted and some modifications were made to the exhaust to make it quieter on the road and also perform better at the track. Some american drag racing tyres called Mickey Thompson ET Streets in 235/60 x 15 were purchased just to be used at the race track they give the car such traction that it can get to 100kph from a stop in close to 3.4s and go on to 160kph in under 8.0s.

A ported and polished throttle body was also purchased and fitted myself - this instantly improved fuel economy and gave a small gain in performance of probably about. 0.1s at the strip. A special manifold cooling device to use at the race track was also imported to assist performance in hot weather.
Steve raced on the 1st June 2005 and did 12.070 - just half a car off joining the 11s club. The car did a 1.678 launch which feels like being shot out of a canon (got a headspin from the shock).
The car is now doing 9.0s to 160kph

On June 12th 2005 at WSID at a private race day , the car had a great breakthrough, after some minor modifications to the gearbox change firmness and the removal of some unrequired weight. The car ran its first sub12s pass, then continued to complete 17 races under 12s. It even did 3 runs under 11.9s and finished with a new best of 11.891 with a bullet 60 footer of 1.647s.
Logging during a 11.990 pass indicated acceleration times of:
0-100kph 3.8s
0-130kph 5.9s
0-160kph 9.0s
0-180kph 11.4s
So now the major goal for the car was now complete. It was driving beautifully on the street and returned 15L/100km for its last 500km before the weekends drag meet. It was a daily driven car capable of a 11.8 pass, estimated maximum speed of 290kph.
Australian National Drag Racing Association




Bracket Meet

WIN
On July 17th Steve raced in the 'Bracket Attack' to do this he had to register for an ANDRA licence and lined up against 43 cars. Many of them dedicated drag cars that arrived on trailers. The morning required some qualifying runs before the action started in Elimination Rounds. Each round of elimination consists of a handicap race start controlled by the drag strips computer. This system make for close racing. Steve "dialled in" 11.820 and had to go as close as possible to that but not go faster. This type of racing places a great deal of importance on having a consistent reaction time to the starting lights. His practise with a stopwatch with Athletes he coached payed off and he was able to consistently get around 0.100s reactions. Steve raced 4 races before finding himself a very excited driver racing in the semifinal against a well known Nationally ranked driver and knew that one more race and he was in the final. So he concentrated better than ever and did the fastest of the night for the car and won. He then rang up people letting them know he was in the final and was so happy about it. As he approached the line he was thinking "this is great i will at least win something as runner-up , then i went NO damn it you are going to win this" and he won the final with an even better run. So the car drove away with a new PB of 11.765s with a 1.622 first 60 footer, won $110 and got a nice engraved wall plaque to remember a good day with.
Doing a perfect run in an elimination round required
1. a perfect even two wheel burnout this means keeping the car straight, not easy when the surface is unevenly wet and sticky.
2. Staging the car just mm into the right position at the start and then locking on that spot with hand brake and foot brake pushed to maximum.
3. Building revs in the auto against the brake - but not so much so that the car creeps forward, while concentrating to the maximum on the lights as the first 2 orange lights come on.
4. Stomping the throttle to FULL and letting both brakes off the micro-instant that the 3rd orange light comes on.
5. The car then launches about 0.100 after the green comes on, a safe margin it seemed. But all it would take would be a loss of concentration or locking the car down too close to the start position and the start would create a red light start (before green) and that would be the end of the competition for me. False starts are instant DQ.
6. Driving down the strip is easy - except with drag radials on the car wobbles down the straight being pushed around much more by wind etc than on normal road tyres. After the finish line there is 600m to slow down and its usually not a fuss. You dont know how you have gone until you get the timeslip from the scrutineering shed unless someone tells you via CB or Mobile.
Steve's son Andrew usually Video recorded the races and they enjoyed watching them later.
Oztrack made the Semi Finals at the East Coast Nationals


Oztrack competed in the Super Street category at the AC DELCO East Coast Nationals at WSID on the 16-18th September. It was awesome to race in front of a large crowd of about 30000 people. The car ran consistent sub12s passes all weekend and made the Semi Finals in a competition that included about 38 cars from QLD,VIC and NSW.

The car stood out from the rest as the only 'driven to the meet' car and also a late model car. The others were mostly older Toranas, Capris, Ford and Holdens which were running old school muscle carburetted V8s.
Making the Semi Finals earned me Steve a good sized cheque of $200-300 and proved that the Bracket Attack win was not a fluke. The commentators really liked the car and gave it good commentary - plus he had a good number of clear fans in the crowd that were evident after his semi final loss. Steve said "It was a nice feeling to see a good sized group of people giving the car the thumbs up and clapping".
Round 1 - win against a LX Torana with Nitrous Oxide
11.982 on 11.87 dial in, 0.099 reaction, 1.655 60 footer
Round 2 - win against V8 XU1 Torana
11.965 on 11.95, 0.094 reaction, 1.659 60 footer
1/4 Finals - win against Chev 350 powered SLR5000 Torana
12.076 on 11.90 easing up (was on schedule to go about 11.94), 0.013 reaction, 1.661 60 footer
Semi Finals - lost to Ford XD 351 ute
11.922 on 11.90, 0.166 reaction, 1.653 60 footer
- Steve's Clubsport raced a racer from Victoria in an older Ford Ute that did 12.008 on a 11.98 with a 0.011 reaction with a 1.689.
The Oztrack Clubsport raced with the rear muffler on. It added about 0.060s onto the ET's. All the races in Eliminations were into fresh headwinds.
New Heads & Fuel Injectors
The car had some heads ported and the compression ration raised to 10.7:1 - this means it can get more air and fuel into the motor as well as more exhaust out. This enables the engine to make more power as well as be more efficient. Straight away the car was noticeably more powerful even at very low throttle. The big bonus was a boost to fuel economy. It even recorded 9.7L/100km at 110kph on the M4 and 9.0L/100km at 87kph. This was phenomenal fuel economy for a high performance car. It was also able to get in 13L/100km range for a tank of fuel around town depending on how it was driven. So fuel economy has improved around 10% just from the heads.
It was also noticeably quicker at high speeds and should do 11.4/118mph in good conditions at the Drag Strip. If it was manual (as dynos are more accurate with manuals) it would probably show around 297rwkw (400hp at the rear wheels). Engine at around 360kw. Accelerating with race tyres on with 0 to 100kph in 3.4s, 0 to 160kph in 8.2s. It would also have a maximum speed of around 290kph.
Oztrack made the Quarter Finals
at the Nitro Thunder Meet on October 29th
Red lighted in the Quarter Final - still won $75, ran a best of 11.818 in 24 degrees weather.
Oztrack Wins 'Super Street' at the USA vs Australia Challenge Meet.
Racing in front of a crowd of about 30000 people on December 26th and 27th the Oztrack Clubsport won the Super Street event. This was Steve's biggest win in a major meet so collected a significant prize of $700 and a trophy. The unbeatble highlight looking back for Steve was the honour of being in the staging lanes for the second last race of the night with the only other cars nearby were the Top Fuel Dragsters of Grubnic and Kalitta. Then driving through the tunnell to a full house of spectators.
The points from this win also put him clearly in front in the NSW WSID Track Championship for 'Super Street'.
So far this season:
Winner of Bracket Attack in July 2005
Semi Finalist at East Coast Nationals September 2005
Quarter Finalist at Nitrothunder in October 2005
Winner USA Top Fuel Challenge in Dec 2005
Here is the summary of my experiences at the meet.
Over the 2 days
Did 3 qualifiers
and 5 races of Eliminations. (cars i raced against are featured HERE)
It was hot the whole meet the Density Altitude didnt go below 1400 the whole meet with temps near 30 degrees most of the time.
Reaction times were the key.
Q1 0.072
Q2 0.234 (distracted by very early red light)
Q3 0.073
Round 1 0.048
Round 2 0.110
1/4 Final 0.021
Semi 0.050
Final 0.094
60 footers
1.920 (spun almost to limitter at launch!)
1.665
1.657 Track Temp 48
1.660 Track Temp 59
1.666 Track Temp 42
1.673 Track Temp 40
1.675 Track Temp 40
1.687 Track Temp 40
Track was hot and greasy - did bigger burnouts than usual. 160-170kph.
Eliminations
Round 1
RXNOT a chev powered Mazda Capella capable of 10.7
Reacted with 0.048 but was caught mid track and blasted past. The Clubsport did 11.904 on a 11.85 dial in. The other car broke out 11.256 on a 11.35
Round 2 (almost 5 hours later)
early 60s Chev car was close to top qualifier with 11.0
Steve did a 0.110 then a 1.666 and he red lighted as well as broke out with a 11.031 on a 11.12. The engine hit the rev limiter in 2-3 change and he had to ease off throttle to get the change and did 12.064/112 losing about 3 mph mid track. Dial in was 11.80
1/4 Finals
Car had flattened battery and we didnt know until on the final pad area before being called out to do a burnout. Luckily our battery pack was there at the start area with crew and after 3 quick goes it started (Steve said recently "looking back this was such crucial moment in terms of all Oztrack's early success depended on it") - he rolled in late to the burnout and didn't even stop before starting the burnout
Sam Danaskos Capri 302
Steve did a 0.021 reaction then a 1.673 but once again hit rev limiter. Car did 12.058 on a 11.80 and beat Sam to the line as he did a 0.130 reaction and 11.653 on a 11.500 dial in with a 1.692 60 footer
Semi Final
Rick Dudek Capri - Top Qualifier.
He red lighted. Same problem with 2-3 change. Did a 0.050 reaction and a 1.675 maybe pressuring Rick to a red he did a 11.102 on a 11.09 dial in. I did 12.006 on a 11.80 dial in.
Final
Michael Gauci in 160 hp NOS LX 5L Torana
Steve did a 0.094 reaction and eased off throttle near the 1-2 and 2-3 changes to do a 11.980 backing off before the line for a clear win (crossed the line at only 106). He did a 11.295 on a 11.12 dial in and had a 0.064 reaction.
They then had to keep motor going for longer between runs for last 2 races so intake temps were in the high 40s at the start line for the semi and final.
Got home at about midnight. Its a very long day at the track.
Ps. We just adjusted the 1-2 and 2-3 shift points to 6600 and 6550 the limiter is at 6800 - but the problem just became apparent yesterday.
The same set of tyres on the rear have now down 76 runs down the strip and lots of burnouts to about 160kph before each race.

Street Commodore Magazine Article
The car was mentioned in the October Edition of Street Commodore Magazine


Dragster Australia Magazine Articles
My win in July in the Bracket Attack was covered in the September Edition of Dragster Australia Magazine.
The car was also featured in Dragster Australia Magazine to do with my Semi Finals at East-Coast Nationals Result in the October Edition
WSID Drag Summernationals 2006
In February Steve raced in the largest NSW Meet of the year the Summernationals.
He made it through to the final 5 competitors and then was eliminated just one race from the final. Steve still earned some more valuable points though and extended the lead in the NSW Champs for Super Street and also placed near the top of the National Series. Winning the National Pointscore makes the driver have the honour of using the esteemed number 1 on the car for the whole of the following season.
As a driver he did the best of all meets so far in this one, consistently getting great starts , it was just some technical issues that slowed the car just enough to let David Simpson beat him to the line by 0.0206s which is about 1m. In this race Steve got a 0.009 reaction and went 11.815 on a 11.720 handicap dial-in. Pretty rare you would lose with that.
The last 2 meets Steve's Dad Barry helped in the crew and made it much easier to focus more on racing and doing well. Steve almost definitely wouldn't have done so well without Barry's support.
Here is some footage from this meet .The meet was televised and had a large crowd.
The car ran 11.768 in the final round of qualifying with a 1.630 60 footer. This was done in 27 degree heat and shows the car is ready to run near 11.50 come winters cold fast racing weather.
Logs showed its now accelerating at
0-80 2.65s 0-100 3.70s 0-130 5.73s 0-160 8.51s 0-190 12.04s 80-120 2.33s
Here is a snapshot of one of the log of the last race.
O

ztrack wins the NSW Season Championship in Super Street Drag Racing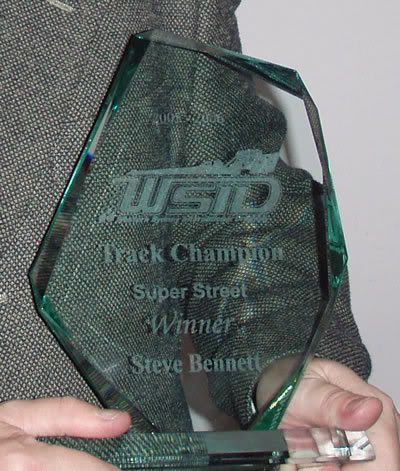 Steve was named as the WSID 2005/2006 Track Champion in the Super Street Drag Racing class and was presented the award at the NSW Drag Racing Communities season dinner.
In the major meet of the season the Nitro Champs he got a new PB in the car 11.619s (but unfortunately went out in the 1st round). The logs showed 0-100kph in 3.5s and 160kph coming up in 8.1s, the car got a 1.583 60 footer its best launch yet.
Then again on May 28th it did another PB 11.509s 117.45mph at the V8owners private day. The car did under 11.57 10 times and did a best 60 footer of 1.558. It was recently dynod at 275rwkw which is good power for a baby cam.
In June 2006 it did another PB of 11.414 and 118.6mph. Also dropped its best 60 foot time to 1.551.
This has been logged at the strip as 0-100kph in 3.4s and 7.7s to 160kph. The car also did 8.9L/100km at 85kph over a 35kph flat freeway drive from Castle Hill on the M7 to Penrith river on the M4. This is 32 miles per gallon.
NA the car did a best of 11.32/119.8mph and ran with nitrous to a 10.9 also.
Here is a video of one of its last runs.